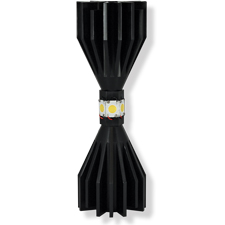 The SL-LED52 &­ SL-LED78 are revolutionary solid-state light sources designed to replace traditional lamps in classical lighthouse optics. Their long life and high luminous efficiency makes huge savings in energy and maintenance possible whilst retaining the heritage value of classical optical apparatus.

FEATURES
Capable of continuous or flashing operation
Suitable for revolving or fixed optics
Typically replaces a 500Watt filament light source with a 78Watt LED light source
Retains the historical heritage of the lighthouse making it possible to pacify local authorities
Simplest solution involves only changing lamp & utilising customers existing pedestals & controls (Sealite also provide Pedestals)
Their crisp, white light improves conspicuity in light polluted areas
The control equipment provided can accommodate a wide range of power supply choices, operating modes & power levels
LEDs are used, so it is no longer necessary to provide a moving lamp changer
Expected life expectancy of the LEDs is approximately 10 years
OPTIONS

Revolving lighthouse pedestals

SL-LED-52

The SL-LED-52 is a four-sided light source using four surface-emitting LEDs of 13Watt each. The maximum total power available is 52Watt but power can be set to any level down to 8Watt without affecting the crisp white colour.

SL-LED-78

The SL-LED-78 is a six-sided light source with power levels variable between 12Watt & 78Watt.