Toughest premium eco-friendly dock boxes in the marine industry. Crack-Proof Guarantee!
No more cracked boxes.
No warping or twisting.
Virtually indestructible. Extremely durable.
No flimsy thickness.
No shipping issues.
No "spider web" cracking.
No weak spots.
More storage.
Better product.
The TOUGHEST Dock Box on the market. Period.
Designed to withstand the harshet marine environments.
Oblivious to any physical abuse or stress.
Thickness consistency in construction.
Features
Dock Boxes are designed with unique features in providing you with the ultimate dock box that meets all your storage and security needs.

All-Stainless Hardware. Will never rust.
Double-Walled Lid. Oblivious to extreme weight on lid.
UV Resistant. Protection against fading and discoloration.
Tan, White, & White with Blue Lid.
10-Year Manufacturer Warranty!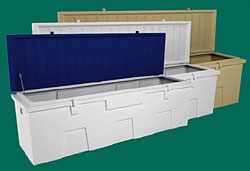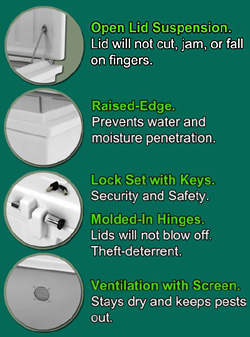 DB35-15005 Small Dock Box
(48" L x 27" H x 24" D)
DB35-15004 Medium Dock Box
(72" L x 27" H x 24" D)
DB35-15000 Large Dock Box
(86" L x 27" H x 24" D)
DB35-L Keyed Lock Set