Please contact us for a Floating Washroom quote.
Floating Washroom/ Shower Facility - ADA Compliant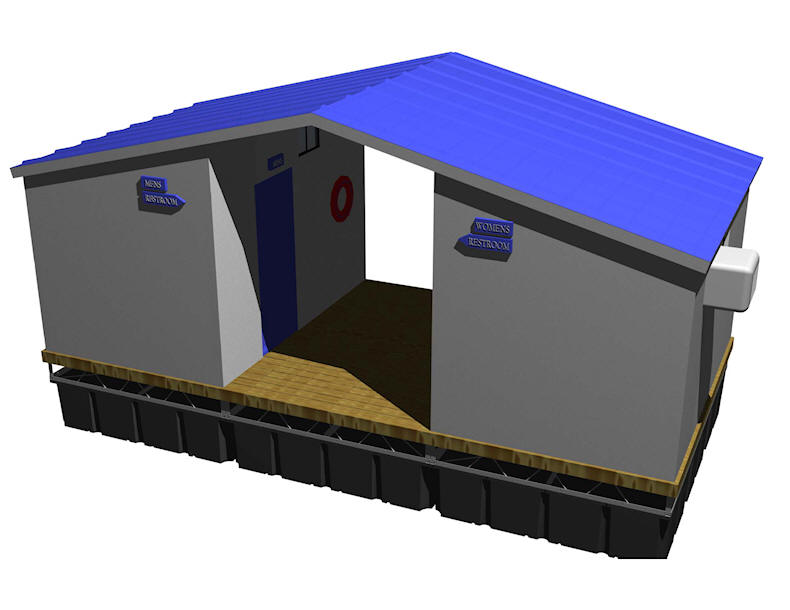 General Info
12' x 24' floating platform
2 buildings 8' x 12' – 8' x 12' breezeway between
All ADA compliant
Men's and Woman's facilities
Connect to existing standard utilities (sewage/ electric/ water) -Manual pump out option included-
Floats on the water
Gray exterior vinyl siding
White interior FRP coating (glossy fiberglass)
Heat and Air Conditioning
Ships via TRUCK as a wide load
Platform & Flotation Specs
Flotation provided is 19,592 lbs total buoyancy using (8) 4' x 8' x 16" float drums. The total weight of the structure is approximately 10,000lbs.The float drums have a nominal .150 wall thickness and are rotationally molded from virgin grade materials with UV inhibitors assuring long life. The one piece polyethylene shell is unaffected by saltwater, oil, gasoline, and most chemicals. The floats are completely foam filled using a 1 to 1.5 density EPS. All floats meet Corps of Engineers Regulation #36 CFR Part 327, absorption and falling dart tests. Floats are bolted to the underside of the truss frame system with a minimum of (6) 3/8" galvanized hex bolts.
The 12' x 24' platform is made of (3) 8' x 12' x 12" galvanized truss frames. The 8' x 12' truss frames are made of 2" x 2" x 3/16" steel angle and ½" steel round stock then galvanized after fabrication. All welding is performed by certified welders in accordance with AWS standards. The three frames are bolted together with (48) ½" bolts during construction to provide a rigid 12' x 24' platform. On top of the truss frames are 2" x 4" Treated SYP sleepers. The platform has 2" x 6" Treated SYP bumpboard and vinyl rubrail all around to protect boats from damage by structure.
Building Specs
The two 8' x 12' buildings consist of 1 men's restroom and 1 women's restroom. Both restrooms include a toilet, shower, sink, 30 gallon hot water tank, lights, GFI plugs, handrail, 10,000btu heater, air conditioner, supply room, and paper towel holders. The men's restroom has a urinal. Both restrooms are ADA compliant. There are two windows on each building. (2 in the men's, 2 in the woman's) The two buildings are joined in the center with an 8' x 12' breezeway. The elevation from the bottom of the floats to the peak of the roof is 11' -1-7/8".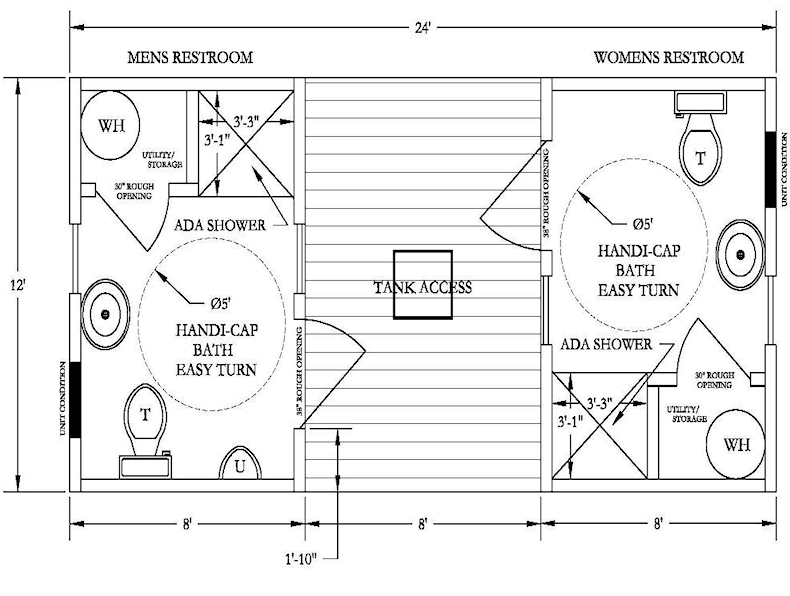 Walls both interior and exterior are constructed of SIPs (structural insulated panels). The walls are 4-9/16" thick and consist of 3-1/2" of EPS (expanded polystyrene) rigid foam insulation sandwiched between two structural skins of OSB (oriented strand board).
Windows (4 total) are 18" x 24" double pane hinged casement windows, clear. Interior surfaces of the walls are white FRP (fiberglass reinforced panels). The FRP provides a durable surface that is easy to maintain in a public facility.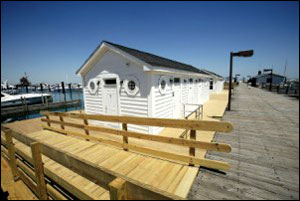 Interior floors of the bathrooms are 3/4" treated tongue and groove plywood installed in (3) 4' x 8' sheets. The plywood is glued and screwed to the sleepers that are attached to the truss frames. The finished floor is a solid 1/8" rubber matting installed in 1 piece (8' x 12') that resembles orange ceramic tile in a 12" x 12" pattern.
Exterior finish of the buildings is vinyl siding that mimics the look of hand split wood shake siding. The siding is installed exactly the same as traditional vinyl siding methods using J channel and starter stripping. Roofing material is steel corrugated roofing.
Utilities
Water needs to be connected to the inlet on the side of the platform on site. The water pipes are PEX ½" flex tubing which is attached to the under side of the floor. The water in the pipes will either need to be drained or winterized for use in cold climate conditions.
Sewage including gray and black water that comes from the sinks, urinal, and showers is automatically pumped from the rear of the toilets in both bathrooms to a 315 gal tank on the underside of the platform. When the 315 gal tank is full it is automatically pumped out into existing sewage system on site. There is also a manual sewage pump out system in place as a backup.
Electric service is still in the design process. The bathrooms will have lights and plugs for general use as well as the required electricity for the pumps, heater/ air conditioners and hot water heaters.
Based on this design, any custom layout is available.
Call or E-Mail for further information. Prices start at approx $60,000.00.
Please contact us for a Floating Washroom quote.