Please contact us for a
Drum Storage quote.
Hidden containment bladder automatically unfurls to capture large spills or drum leaks.
Ultra-Spill Deck P1 Bladder System
The first and only low profile, single-drum containment unit which meets EPA Container Storage Regulation 40 CFR 264.175 and Uniform Fire Code Spill Containment Regulations.
Compact 25 7/8" x 30 1/2" footprint saves valuable floor space - perfect for single-drum waste collection usage.
Small spills and leaks are captured in the 11-gallon sump.
Large, catastrophic leaks flow into the bladder through a bulkhead fitting. Protective "trap door" opens automatically to allow bladder to unfurl.
Rugged, double layer polyethylene bladder allows 66 gallons total containment.
Dimensions:
25 7/8" x 30 1/2" x 5 3/4"
(657 mm x 775 mm x 146 mm)
Containment Capacity:
77 gallons (291 L)
27 lbs. (12 kg)
Part# 1320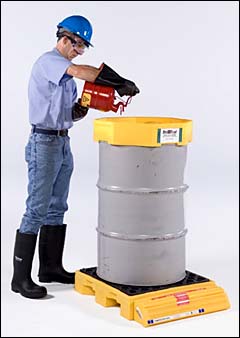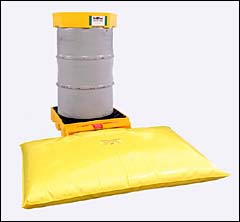 Click photos to enlarge.