Please contact us for an
Oil Filter Boom quote.
Capture floating oil quickly and stop it from reaching the shore.
Six-foot-long booms made with Ultra-X-Tex absorb oil from water much faster than standard polypropylene booms.
Unlike polypropylene, Ultra-X-Tex material will allow water to pass through freely while filtering any oil present on the water's surface.
Each Oil Filter Boom has connecting hardware pre-installed so multiple units can be quickly and easily attached for longer lengths.
Units are designed to be connected with 1-foot overlap to insure maximum containment/coverage.
Ultra-Microbes can be added to provide a bio-remediation element.
Part# 5220:
Dimensions: 6' L (1.8 m)
Weight: 5 lbs. (2.3 kg) each
Capacity: 2.3 gallons (8.8 L)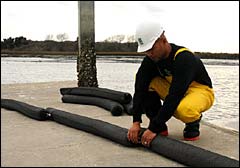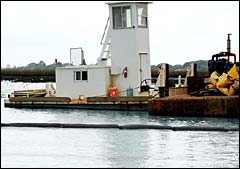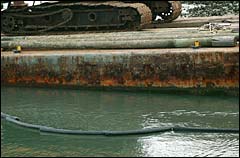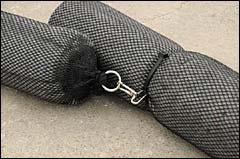 Click photos to enlarge.