MARINA QUALITY FLOATING BOAT LIFT.
HANDCRAFTED FOR SHALLOW AND
FLUCTUATING WATER ENVIRONMENTS.
Our Shallow Water RhinoLift lift utilizes a longer, low profile RhinoLift air tank to allow for use in shallow and fluctuating water applications. These industry-leading polyethylene tanks allow of operation in water depths as low as 22 inches (plus hull depth). Utilizing the time-test L-Arm design our Shallow Water Lifts are built to withstand the harshest of marine environments and provide the ultimate in strength, durability, and performance. Trust the experts at RhinoLift Products and get the peace-of-mind the comes with over 40 years of handcrafted, expertly welded, marine experience.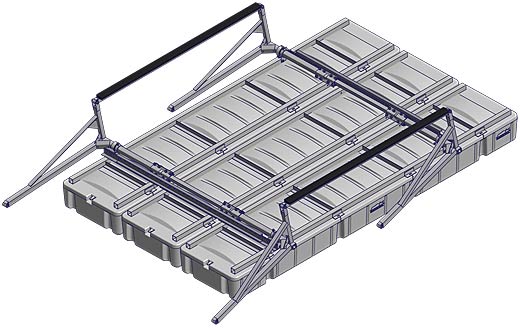 LOW PROFILE RHINO MARINE TANKS (14.25" tall) allow of operation in lower, fluctuating water depths. Minimum water depth required is 22 inches plus hull depth.
WELDED AND GALVANIZED steel frame for superior strength and corrosion resistance.
MARINE-GRADE FASTENERS AND BUSHINGS provide quiet, lasting performance in nearly any waterfront conditions.
RHINO MARINE TANKS are rotationally molded for durability and impact resistance.
PREMIUM RHINOLIFT CONTROL UNITS available with or without a remote.
NO STEEL IN THE WATER when lift is in up position to prevent corrosion and reduce maintenance.
ACCESSORIZE YOUR LIFT
L-Arm RhinoLift floating boat lifts offer a wide range of accessories to fit your boat, pontoon or tritoon, and premium RhinoLift control units are available with either manual, or remote control operation.
Control Units
RhinoLift boat lifts feature premium RhinoLift control units available in either manual operation or remote control operation.
Arm Guards
When entering or exiting the lift in wind, currents or choppy water, RhinoLift Arm Guards can add additional protection for your watercraft.
Guide-Ons
Guide-ons act as a centering for properly storing your watercraft on the RhinoLift. Horizontally adjustable for a perfect fit.
Lift Bunks
RhinoLift lift bunks feature marine grade carpet and vertically and horizontally adjustable for your boat or pontoon.
PRODUCT SPECIFICATIONS

Model

Capacity
(in lbs.)

Slip
Width*

Frame
Height**

Overall
Length

Min. Water
Depth***

Blower
Box

SW 4410

4,400

9'6" - 11'6"

22"

216"

22"

Rhino Control Unit

SW 4412

4,400

11' - 13'

22"

216"

22"

Rhino Control Unit

SW 7212

7,200

12' - 13'6"

22"

216"

22"

Rhino Control Unit

SW 7214

7,200

13' - 15'

22"

216"

22"

Rhino Control Unit

SW 7216

7,200

15' - 17'

22"

216"

22"

Rhino Control Unit


*Choose an L-Arm or 4 corner style RhinoLift floating boat lift when you have a full slip available and can attach the lift to the dock walkways with dock connector brackets.

**Frame Height with Tanks; tanks are each 26" tall x 28" wide x 12.5" long.

*** 22" plus depth of boat hull.

---
Please contact us for a Boat Lifts quote.