Contact us about a Roll-n-Go Railway System.

Roll-n-Go 4200 Rail System is for boats weighing up to 4200 lbs.
Model #RNG42
Roll-n-Go's Model 4200 Railway System is for boats weighing up to 4200 lbs. It has been engineered for strength, durability and simplicity. It is a ready-to-assemble marine railway system is constructed of marine grade aluminum and includes stainless steel fasteners.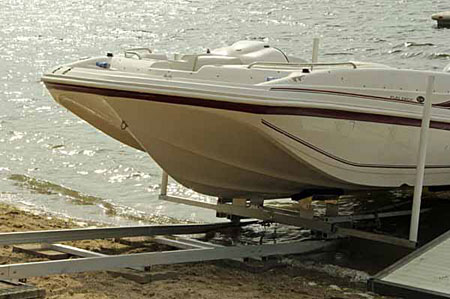 The kit comes complete with detailed, easy-to-follow assembly instructions. It assembles with common tools in a few hours.
The base price includes standard 2800 lb. hand winch and also has several electrical winch options available. The fully adjustable standard bunk system is upgradable to bunks that accommodate inboard drive ski/wake boats or pontoon boats.
The rails are 4" high structural "c" channel. The basic kit comes with (4) 9 ft. track sections. Extra track sections, leg kits and angle kits are available to get your boat over rough terrain or to change angles to follow the contour of your shoreline.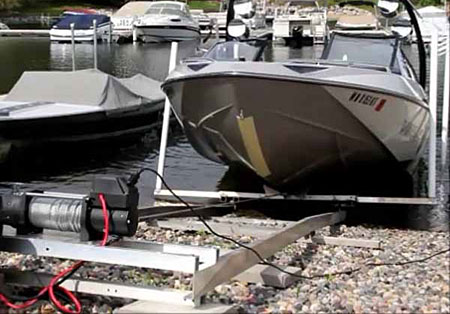 The sections connect easily with specially formed brackets and Roll-n-Go has incorporated a carriage retaining system to prevent the carriage from accidently getting knocked off the track or from rolling off the end.
The carriage contains 2 fully welded ends connected by bolt-in channels. It will accommodate any of our fully adjustable bunk systems.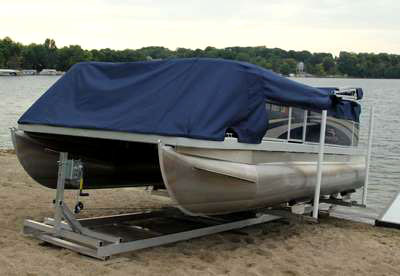 The wheels are machined from solid aluminum, with bronze bushings that ride on greasable, grade 8 axle bolts for many years of smooth service. The carriage has sturdy PVC drive-in guides that adjust to 112 inches wide, over 9 feet.
The Model 4200 is a great place to store your boat over the winter on shorelines that are not subject to ice floe surges. Just winterize and cover your boat and wait for that first warm and sunny Spring day to get back onto the lake!
Roll-n-Go 4200 Rail System Options:

Bunk Options : Winch Options : Accessories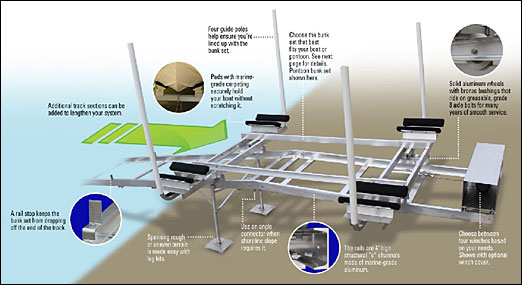 (Click photo to enlarge.)

How far into the water does the track need to go?
The track needs to go to a water depth of 2 feet (28 inches deep with the "high bunks") plus an additional 10 feet. If your lake fluctuates, take into account low water levels.
Will I need extra track?
The basic Model 4200 comes with about 36 feet of track. You may need to order extra 9 foot lengths if any of the following conditions exist.
The slope of your shoreline is very shallow or flat.
Your lake level varies throughout time.
Your boat is longer than 17 feet.
Your boat has a deep draft.
You choose to pull your boat farther for any other reason such as to a boat house.
Complete the following to determine the minimum track length you will need.
1) DETERMINE LENGTH OF TRACK THAT IS IN THE WATER WHEN LAKE IS AT LOWEST LEVEL. FIRST, FIND THE LOCATION WHERE THE FRONT OF THE CARRIAGE WILL NEED TO BE. THAT LOCTION IS WHERE THE CUR- RENT WATER DEPTH IS EQUAL TO THE SUM OF THE FOLLOWING 3 VALUES:
The draft of your boat.
20 inches if using regular or pontoon bunks and 24 inches if using the high bunks (ie for inboard motor wake boats or ski boats)
The difference between the current water level and low water level.
NOW, FROM THAT POINT MEASURE TO THE WATERLINE AT LOW WATER LEVEL AND ADD ANOTHER 10 FEET. THAT WILL BE YOUR "IN-WATER" TRACK LENGTH.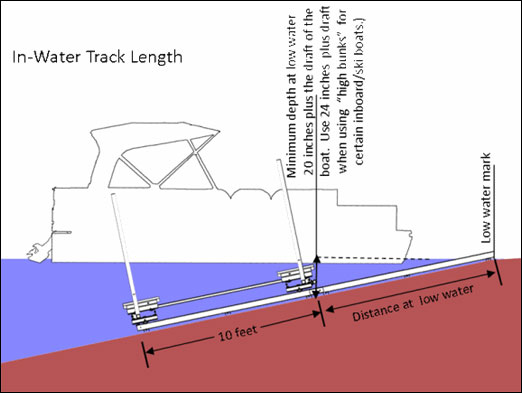 2) DETERMINE THE MINIMUM ON-SHORE TRACK LENGTH AT HIGH WATER BY COMBINING THE FOLLOWING 3 VALUES:
Boat/motor overall length PLUS ...
Buffer or walk-around space behind boat, MINUS ...
Front overhang. The bow of most boats will overhang the front end of rails and winch by at least 2 feet and most pontoon boats can overhang by 3 or 4 feet with the following exceptions:

When using a manual winch with post, subtract 0 overhang feet and add 1 foot to required on-shore track length.
Tri-toons subtract 0 overhang feet and add 1 foot to required track length.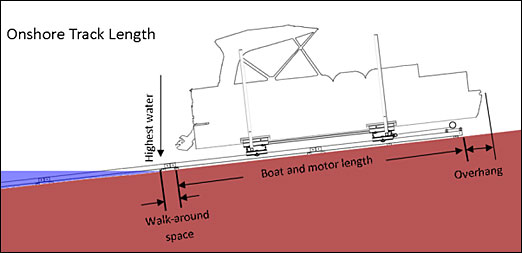 3) FINALLY, MEASURE THE DISTANCE ACROSS THE GROUND FROM THE LOW WATER LINE TO THE HIGH WATER LINE.
ADD THE RSULTS OF STEPS 1, 2 AND 3 ANT THAT IS THE MINIMUM LENGTH OF TRACK YOU WILL REQUIRE.
DIVIDE BY 9 TO DETEMINE THE NUMBER OF TRACK SECTIONS NEEDED. 36 FT COME WITH THE MODEL 4200 KIT AND ADDITIONAL SECTIONS ARE SOLD IN 9 FOOT LENGTHS.
NOTE ABOUT HIGH AND LOW WATER MARKS:
Consider choosing high and low water evels that are realistic for a 10-15 year time frame to reduce the number of sections required. In the event of a very extreme our systems can be moved and track sections added to. Obviously, the high and low water spread can significantly affect the length of your system.
Flat sloped shorelines will add length as well because the minimum low water depth will be farther from shore.
The "high bunk" option can add 2-4 feet of length
A WORD ABOUT WINCH CABLE LENGTH
Your winch cable length can be 10—12 feet shorter than the total track length since it only needs to reach the top end of the carriage and in most cases, when the boat is on shore, it can overhang the front of the ramp.
Contact us about a Roll-n-Go Railway System.