Please contact us for a Water Slide quote.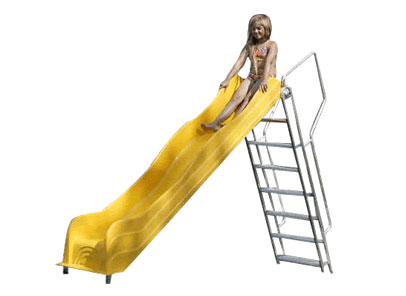 Get to the bottom of a seriously fun predicament. Remember racing to the park to see who could be the first one down the slide? ShoreMaster's Waterslide takes that memory and brings it to the water. You'll always have more fun going down with your very own Waterslide. The Waterslide from ShoreMaster will turn your waterfront into an aquatic play land. It's safe, built to last, and it's virtually maintenance free.
Overview
ShoreMaster Waterslides can be used as a freestanding tower of fun, or mount one to your dock for the best view around. Stands approximately 7' tall, with a base of approximately 10'. Comes in two styles--free standing or dock mounted. The free standing slides will give you loads of fun standing on its own in the water. The dock mounted version will attach to a dock or raft.
Ladder
The aluminum ladder is designed to safely provide years of worry free service because it is resistant to the effects of weather and durable enough to handle constant fun.
Slide
The durable plastic slide features a cool wavy pattern for the most fun around. Like the aluminum ladder, the plastic slide is resistant to the effects of weather and sun.
Your Choice
The Waterslide is available in two models, free standing and dock mount. The free standing waterslide can stand on its own in the water to provide the ultimate in water fun. The on deck, dock mount waterslide can be mounted to your existing dock and some swim rafts for a great elevated ride to the bottom.
PDF Instructions
On Deck Slide Dimensions
Off Deck Slide Dimensions
Instructions - Slide, Off Deck
Instructions - Slide, On Deck
ShoreMaster Waterslide Price: $1,398.00 (Freight & Tax Extra)
Please contact us for a Water Slide quote.