Please contact us for a
Drum Storage quote.
Store hazardous drums safely outdoors with pumps and funnels in place!
Ultra-Hard Top P1 Plus Spill Pallet
The only 1-drum, lockable outdoor containment unit available.

This two-piece spill containment unit provides safe and secure outdoor storage for your 55-gallon drum. Simply use your forklift and/or drum handling equipment to lift and lower the drum into the bottom sump, then place the top portion over the drum where it locks in place onto the lower sump portion. Once assembled with the drum in place, access is quick and easy via the roll top door. The top Hard Top section does not need to be removed again unless the drum needs to be replaced.
Convenient "roll top" cover slides up and out of the way—allows quick access to drum pumps and funnels.
100% polyethylene construction will not rust or corrode.
Safe Handling - can be moved by forklift under the "shoulder" area or wheeled with the optional dolly.
Meets SPCC and EPA Container Storage Regulation 40 CFR 264.175.
Tall head space (25 3/4") allows use with drum pumps and conical funnels.
Lightweight, yet rugged upper body is easily removed to load or unload drums.
Lockable design provides added security for storage of hazardous materials.
Optional dolly offers safe and efficient material handling.
Dimensions:
36" x 36" x 66"
(915 mm x 915 mm x 1677 mm)
Containment Capacity:
70 gallons (265 L)
Weight:
Top 36 lbs. (17 kg)
Bottom 26 lbs. (12 kg)
Uniformly Distributed Load:
800 lbs. (363 kg)
Part# 9640 - 1-Drum Hard Top Spill Pallet, no drain
Part# 9641 - 1-Drum Hard Top Spill Pallet, with drain
Optional Dolly - Part# 0417
Dimensions:
26 1/2" x 26 1/2" x 5"
(674 mm x 674 mm x 127 mm)
Weight: 35 lbs. (16 kg)
Load Capacity: 800 lbs. (363 kg)
Construction: Steel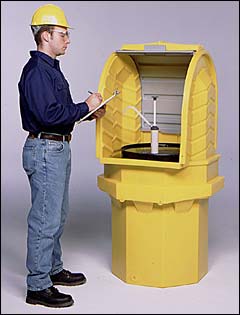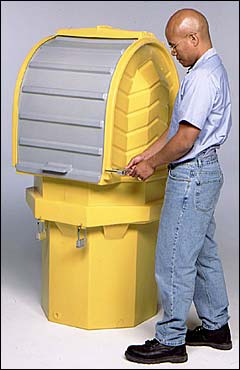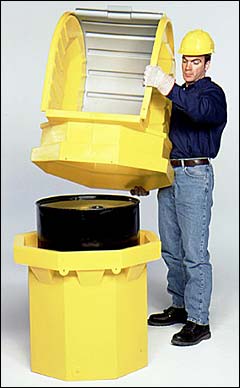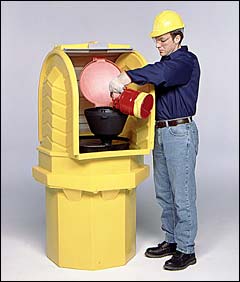 Click photos to enlarge.