Contact us about Roll-n-Go Model 4200 Winch Options.

Winchs available for Model 4200
The winch you choose will determine which winch mounting plate or winch post you will receive. For the top end of the track. Extra track sections, leg kits and angle kits are available to get your boat over rough terrain or change angles to follow the contour of your shoreline. The carriage contains 2 fully welded ends connected by bolt-in channels. It will accomodate anyy of our bunk systems (sold separately). The bunk mounting system allows you to locate them anywhere along the width of the carriage and adjust the angle of the bnk to fit your hull perfectly. The wheels are machined from solid aluminum, are double flanged and bronze bushings that ride on greasable axle bollts. The carriage has strong, PVC drive-in guides that adjust as wide as 9 feet. It is also equipped with a retaining system to prevent the carriage from jumping the track.All electric winch options include an aluminum winch/motor cover. Choose the base kit with the winch that best suits your needs.

Winch Option 1 - Manual Winch Shelby 2-Speed 2800#, 50 ft. Cable

This is our economy AC winch. It has 2800 lb pull and comes with 50 ft cable. Upgradable length to 94 feet in case you want to add a doubler kit which gives you twice the leverage at half the speed. The winch also features two speed options with a gear ratio choices of 5.1 : 1 and 14.7 : 1.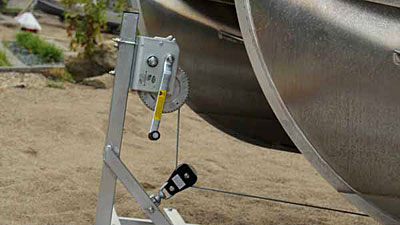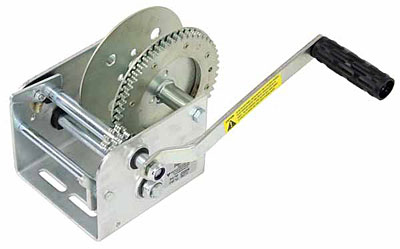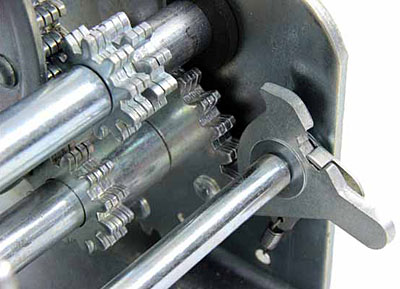 Winch Option 2 - AC Winch DL StrongArm SA12000 w/ 3-Prong Plug and Pendant

For 3000 lb of pulling power, choose this strongest of our winches. You will need to wire this to your 110 or 220 volt power source. Wiring instructions and mountable drum switch are included. Use of a qualified electician is recommended. This winch is consideraly faster than the 2000 lb. winch. Comes with 100 ft. of cable.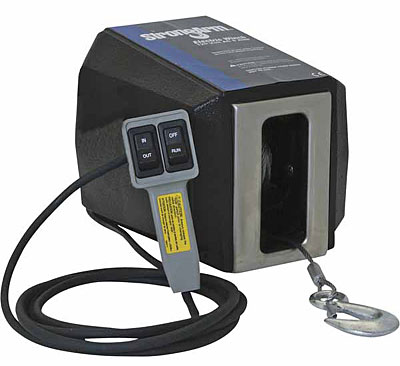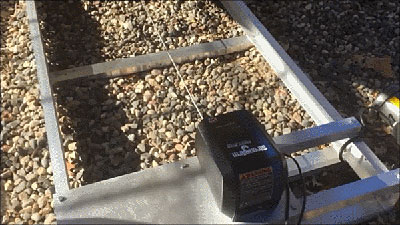 Winch Option 3 - AC Winch Warn model 3000 ACI, 100 ft Cable, 110v-220v (mountable drum switch must be wired)

No power to your shore? The DC winch on this model is super powerful and will cycle up and down easily using a deep cell marine battery. If you don't want to cart your battery back and forth, consider adding our top quaity 20 solar charging kit (added option). Includes 95 feet of cable and the hand-held controller detaches for safe keeping.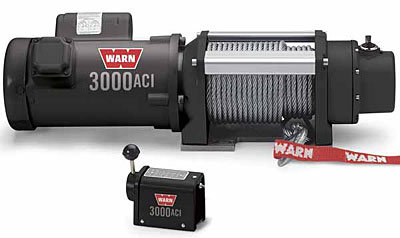 Winch Option 4 - DC Winch Superwinch Tigershark 9500, 100 ft Cable (12-volt battery not included)

If your slope is 10% or less and your boat under 2500 lbs, you can crank it up with our 2800 lb, 2 speed hand winch. Comes with 50 ft. of cable, upgradable to 90 feet.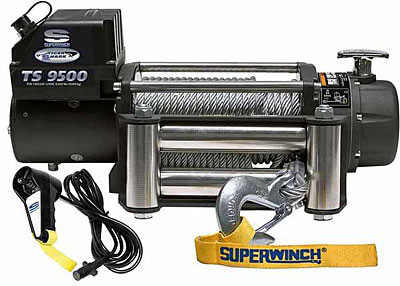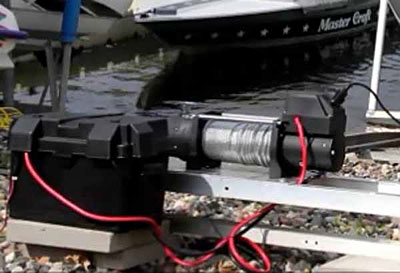 Contact us about Roll-n-Go Model 4200 Winch Options.