The most important thing that sets the ANC corner wheels apart from the "others" is the fact that their patented design does not have a valve to allow air to escape and the ANC corner wheels are designed with "tubes" molded in to the wheel which provides substantially more protection for you beautiful boat from the dock. The competition's dock wheels may look full of air when you come into your dock, only you find out the hard way that they're actually "flat."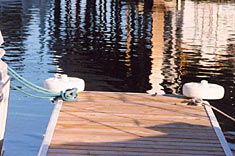 As boats have become beamier and beamier, it's harder to get into marina slips. These wheels are great! You can just roll your way into your slip. Compliment the "Corner" wheels with the "Side Mount" wheels and you've made an excellent system to protect your yacht. If you have a larger boat or a "cross wind" situation, the double corner wheel offers even more protection by spreading the load to a great surface area. Compare the costs of repairing gel coat against buying the best ... the Astro corner wheels.

ANC Dock Wheels are needed when winds and currents make docking difficult. These wheels are molded of thick marine grade vinyl to with stand rough treatment and harsh marine conditions. The wheels have a molded-in hub and axle, so there are no metal to metal fittings to rust or corrode. This unique design ensures years of trouble free use and aids the boater while maneuvering in and out of the slip. All of the wheels are factory inflated so they never go flat.