Please contact us for a Drive-In Berms quote.
Drive-In Berms function as mobile containment systems, environmental protection solutions, and support small equipment washing procedures. These larger berms have crushable side walls that retain their form and function after vehicles or equipment drive over them. These unique wash and fill berm wash pads feature foam encapsulated walls in various sizes, accommodating continuous drive-in / drive-out mobile washing applications. We also offer preventative ground tarp and track runners to protect your wash and fill berms while ensuring prolonged product performance.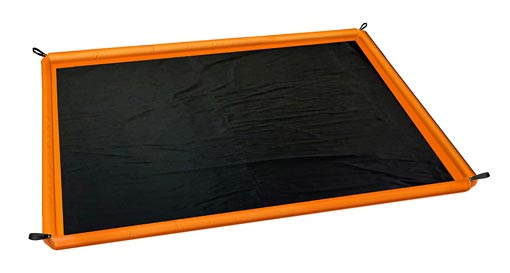 Features:
Drive-in Berms are quick and easy to deploy.
This single piece drive through berm is the ideal berm for constant in and out traffic.
Just unfold and you are ready to go.
Open cell foam walls pop back up after entry, allowing you to roll anything over the side walls to enter the drive through berm.
Prevents leaks and spills from staining or creating hazards.
Foam filled wall height of the drive on berm can vary depending on the application as needed.
Applications:
Handles waste, spills, and runoff efficiently and safely.
Prevents environmental hazard of leaking vehicles.
Available in PVC, Urethane, and other highly chemical resistant fabrics.