Please contact us for a Recycled Plastic Lumber price quote.

Bedford Technology is recognized as one of the most reliable and experienced manufacturers in the recycled plastic lumber industry. With more than 35 profiles, 15 color options, and the ability to manufacture custom shapes and sizes, Bedford can provide products that offer clear advantages over composite lumber products.

A long-lasting, low maintenance alternative to wood. 100% recycled Select™ Lumber is made of high density polyethylene plastic with colorants and ultraviolet stabilizers added to provide longevity in outside applications.
Boards are solid with pigment throughout to provide consistent color and uniformity even after cutting. Select™ Lumber has clear advantages over composite lumber products.
Available colors: black, blue, brown, cedar, gray, forest green, yellow, Norwegian weathered wood, mink and white.
Available Sizes - Select™
Technical Data
Warranty
Specifications
Span Tables - Select™
Installation Instructions - Select™


Load Bearing Structural Lumber
What is FiberForce®?
A high performance timber product uniquely suited for outdoor structural applications

Superior strength
Exceptional durability

Ideal for applications with environmentally harsh conditions
A composite of recycled plastic and fiberglass fibers
Fiberglass formula provides strength and increased modulus of elasticity (stiffness)
Many Applications
Posts, beams, and joists
Boardwalks and retaining walls
Dock and deck plank
Trails/walking bridges
Pilings
Sheet piling
Channel markers
Bridge fenders (bumpers)
Wales (horizontal fenders over concrete pilings)
Camels (floating fenders)
Easy to Use
Use standard woodworking tools
Can be drilled, routed and cut like conventional lumber
Because there are no knots, FiberForce® cuts cleanly every time
Available in many dimensional lumber and timber sizes
Available in ten colors
Benefits of FiberForce®
Environmentally responsible

Made from high percentage post-consumer recycled plastic-excellent opportunity for municipalities to demonstrate how curbside recycling is working
FiberForce® is fully recyclable
Halts further destruction of trees and rainforests

Exceptionally durable

Resists attack by termites, insects, and marine borers
Outlasts all treated woods
Resistant to salt water
Never rots or splinters
Completely impervious to petroleum
High impact resistance
50 year warranty

Low maintenance

Never needs painting, treating, or sealing
Moisture resistant - will not stain
Resists animal odors and wastes
Never splinters - great for public areas
Why use FiberForce®?
Excellent value: The lifetime cost of a FiberForce® structure as compared to conventional building materials is substantially lower because it will last many years longer
Exceptionally strong and durable
Low maintenance
Environmentally responsible
Available colors: black, blue, brown, cedar, gray, forest green, yellow, Norwegian weathered wood, mink and white.
Available Sizes - FiberForce®
Technical Data
Warranty
Specifications
Span Tables - FiberForce®
Installation Instructions - FiberForce®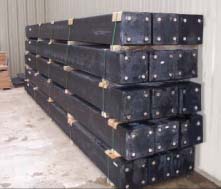 BarForce® has improved strength and load bearing properties over conventional FiberForce®. Two or more fiberglass rods of diameters from 3/4 up to 1 1/2 inch are imbedded in the full length of a board near each outside edge OR corner (depending on board shape and size) to produce a very strong product especially when used for applications requiring structural plastic or reinforced plastic lumber. Comes with a 50 year limited warranty.
BarForce® has been used in a variety of applications over the years. It is an excellent product for pilings, docks and piers due to its durability.
BarForce® sizes will be available only in those dimensions on the available sizes chart at this time. Please contact us for additional information.