MOORING ARMS IN BC AND ALBERTA CANADA


Please contact us for a Mooring Arms quote.
Safe, secure docking and anchoring options for your personal water craft, sailboat or power boat.


Personal Water Craft Installation

Fast, secure mooring for your PWC - in the water and ready to go. You can now warm up and tune up your PWC at the dock.
Standard Installation

Simple, safe and secure - using only two SnapLines. No ropes or bumpers com/to untie and stow. System pivots on to dock when not in use.
Single Arm Installation

Mooring Arms can also be used in slips to suspend one end of the craft away from the pier when the other end is attached to the main dock.
Sailboat Installation

Finally, a convenient mooring system for sailboats. No chaffing against the dock. No tall whips to tangle in rigging.
Why change from conventional mooring?

Coventional mooring is more complex, requiring four lines (bow, stern and two spring lines) and bumpers to snug your craft against the dock.

Natural forces cause chafing between the dock, bumpers and craft. Bumpers can also work their way out from between your craft and dock, resulting in severe damage.

Whip-type mooring systems are even more complex, requiring up to six lines to moor you craft.
Independent Suspension
When your craft is moored, the universal joint dock attachment allows each arm to freely move up and down so the craft can gently ride all water action, calm to severe.

The combination of secured SnapLines, rigid UV impervious fiberglass arms and galvanized steel dock attachments, prevents your craft from moving in or out, fore or aft.
6' Mooring Arm
(Up to 6' Beam & 1,500 lbs.)
MA060

8' Mooring Arm
(Up to 8'6" Beam & 5,000 lbs.)
MA085
Please contact us for a Mooring Arms quote.
Related items that you may need. Click to view.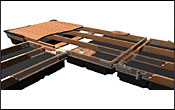 Build-A-Dock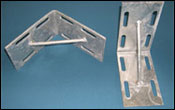 Dock Hardware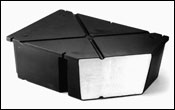 Ace Floats