Please contact us for a Pump Dock quote.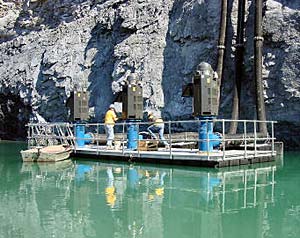 Nelco Marine has a 12' x 12' vertical pump dock that can support up to a 300 HP pump used for tailing pond, mining applications, agriculture dewatering and waste water applications. The 2 sections of this rugged steel platform can be easily bolted together on site. Comes complete with floats, railing system, grate-lock decking or fiberglass grating and plate for pump. Entire unit is hot dipped galvanized frame for long service. The unit has 9950# of ACE Roto-Mold flotation. Walkways/gangways and other accessories are also available.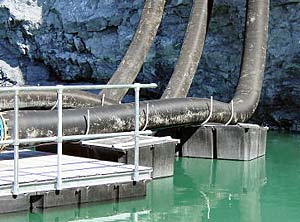 The frame is made from 4" x 7.25 channel and hot dipped galvanized after fabrication. The handrail is 2" galvanized pipe. The decking is galvanized grate lock. The center 1/2" x 4' x 4' plate is bolted to the frame. The plate is galvanized but has no hole so the customer can cut the correct hole for the pumps being used. Fittings are welded to the frame side for a hinged ramp.
A 16' x 16' platform model is also available for larger pumps.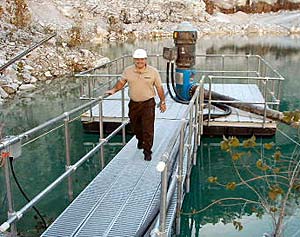 Units can be bolted together for multiple pumps.
We also offer a light duty 8" steel truss frame version made from 2' x 2" x 3/16" angle iron and hot dipped galvanized after fabrication C/w ACE Roto-Mold Flotation and fiberglass grating.
Call or E-Mail for complete details and pricing. These items must be shipped by commercial carriers. For more information on purchasing our Vertical Pump Floating Platform please give us a call at 250.354.9011.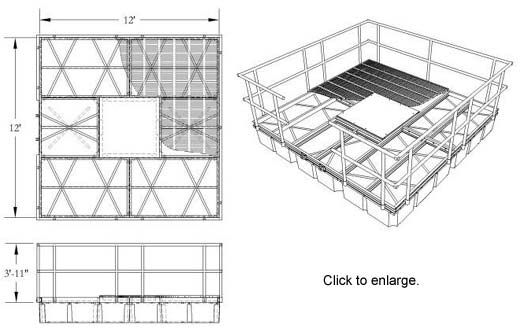 Please contact us for a Pump Dock quote.