Blow-Molded Dock Cushions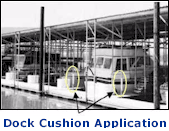 ACE's Blow-Molded Dock Cushions are made from virgin-grade polyethylene with UV inhibitors to provide long lasting durability that will not scratch or mark boat surfaces. Molded-in recessed mounting holes make installation easy These are a cost-effective solution for fresh or salt-water applications. Cushions come in white or black. Available in 4 3/4" x 2', 3' or 4' lengths.
Each cushion comes with molded-in mounting holes that make them easy to install. Cushions currently come in three shapes... flat back, u-shaped and L-shaped. The U-shaped cushions 2", 2.5" and 3.5" cavity backs (see dimensions below). All cushions are 4.5" wide.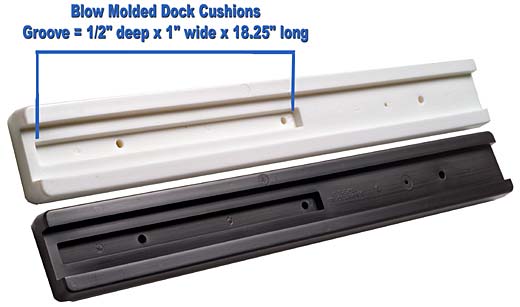 (Click to enlarge photo)
Blow-Molded Dock Cushions

Length

Flat Back

2" Cavity

2 1/2" Cavity

3 1/2" Cavity

"L" Shape

2'

DCBM2-Flat

DCBM2-2.00

DCBM2-2.50

DCBM2-3.50

Not available

3'

DCBM3-Flat

DCBM3-2.00

DCBM3-2.50

DCBM3-3.50

DCBM3L

4'

DCBM4-Flat

DCBM4-2.00

DCBM4-2.50

DCBM4-3.50

Not available