Please contact us for a Swim Raft quote.

Escape Swim Raft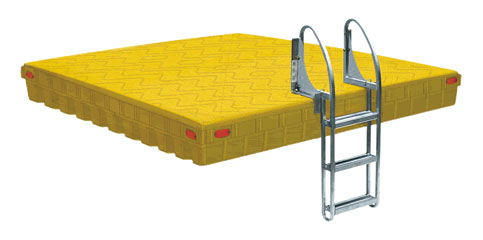 Escape from the daily grind. Escape to the serenity of your free time. The ShoreMaster Escape swim raft is the perfect escape for any adventure. Define your perfect escape, and the Escape raft will take you there. You're free to sunbathe, read a book, or maybe take up yoga on the Escape swim raft. The Escape swim raft is one of the sturdiest and most stable swim rafts on the market. And it includes a pivoting ladder so getting up, and getting off is easy. That means you're free to leave the turbulence of the daily grind at shore, and Escape to the calm stability of the Escape swim raft.
Overview
State of the art comes to swim rafts in this one-piece all-poly swim raft from ShoreMaster. With extra features for added safety and convenient use, you can't go wrong. But you can count on ShoreMaster's standard 3-year warranty.
Large 7.5' by 9.5' non-skid deck surface One-piece all-poly swim raft 3000-pound capacity Raft weight is approximately 325 pounds. Available in yellow and tan.
Reflectors
Reflectors on each corner and the 3-step ladder provide additional safety.
Warranty
Standard 3-year warranty
Escape Swim Raft Price: $2,147.00 (Freight Extra - Tax Extra)
---
ShoreMaster Aluminum Swim Rafts - BC and Alberta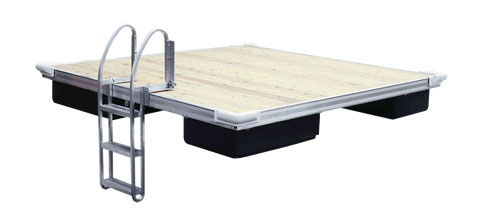 Think of the fun times you had up at the lake as a youngster. Your time spent on the water seemed to last forever. Now you want to get that feeling back, either for yourself, or maybe for your own children. Whatever the reason, you already know what it's going to take. You need the classic look and feel of a ShoreMaster Aluminum Swim Raft. Whether you choose our classic cedar or white painted aluminum decking, your time spent on the water will again seem to last forever. The Aluminum swim raft from ShoreMaster is as timeless as your memories.
Overview
Aluminum frame with corner bumpers included. Available in Incense Cedar or White-Painted Aluminum deck. Polyethylene encased flotation. Approximately 1000 lb. capacity.
Ladder
3-step pivoting ladder included.
Warranty
Backed by ShoreMaster's 15/5/2 warranty.
Aluminum Swim Raft Prices:
Option 1 - Cedar Panel Decking: $3,763.00 (Freight & Tax Extra)
Option 2 - White Aluminum Decking: $4,653.00 (Freight & Tax Extra)
Please contact us for a Swim Raft quote.