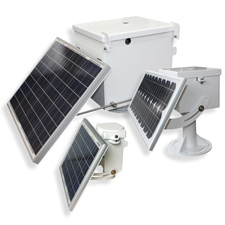 Sealite power supplies offered by Nelco Marine are please to offer a full range of power supplies.
Sealite Range of Power Supplies
Sealite manufactures in-house a large range of power supplies designed to suit a variety of applications, and to withstand the harsh marine environment.
Click here to view our Sealite Power Supply spec sheet.

FEATURES
Solar module(s) has an adjustable mount which can be angled to maximise solar collection.
Power supply comes complete with solar module & battery contained in a rugged, powder-coated aluminium housing.
OPTIONS
10Watt power supply
20Watt power supply
40Watt power supply
60Watt power supply
85Watt power supply
140Watt power supply
170Watt power supply